Autumn has arrived! There's so much to love about Autumn. Something I wouldn't have said like ten years ago, but as of now, I really enjoy this season, as much as I love my birthday season; Summer. From Fall recipes, the change of the weather, cozy clothes (like sweaters), leaves changing to gorgeous colours before the fall from the trees, Thanksgiving (here in Canada it's in October) and Halloween. I'm not a especially into Halloween. My sister, brother and I have said that we grew up in a haunted house, so I'm good, thanks. Lol. Anyway, one of the most popular ingredients that screams Autumn, are apples! Aside from the very popular Apple Pie, and I mean, who doesn't love a good Apple Pie? There are so many delicious apple recipes. I hope you all like what's on this list. Should you try any, please let me know how it went and/or if you like them in the comments!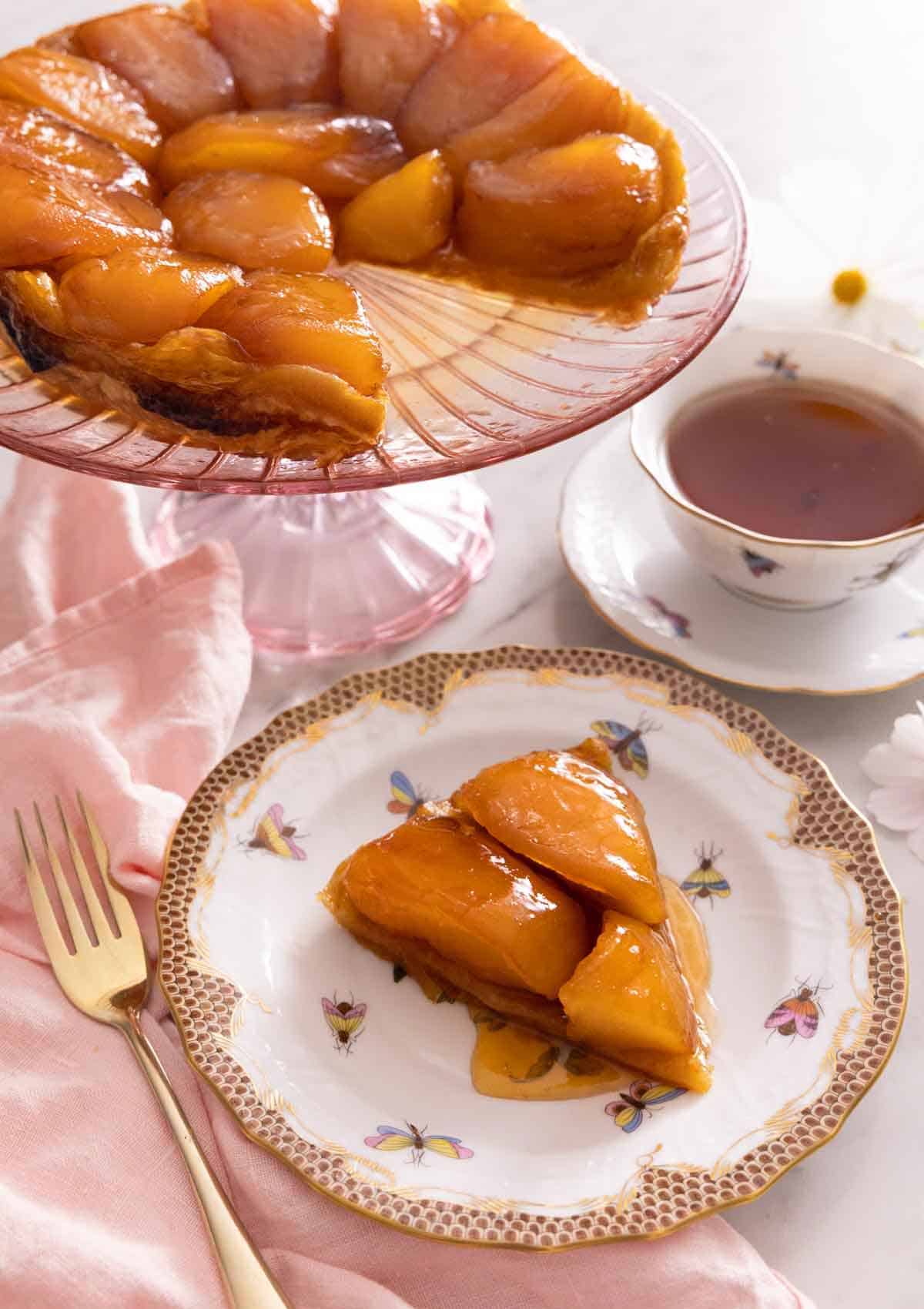 Tarte Tatin by John, Preppy Kitchen
This Tarte Tatin is sure to wow your guests! This French classic is a beautiful upside-down tart with caramelized apples and a flaky crust that is a beautiful and delicious treat which only requires five simple ingredients. – John, Preppy Kitchen
Apple Galette by Alyssa Rivers – The Recipe Critic
This apple galette recipe is perfect for satisfying an apple pie craving without the hassle! Warm apples, tossed with cinnamon and nutmeg, are folded into the perfect buttery crust in this easy dessert. – Alyssa Rivers, The Recipe Critic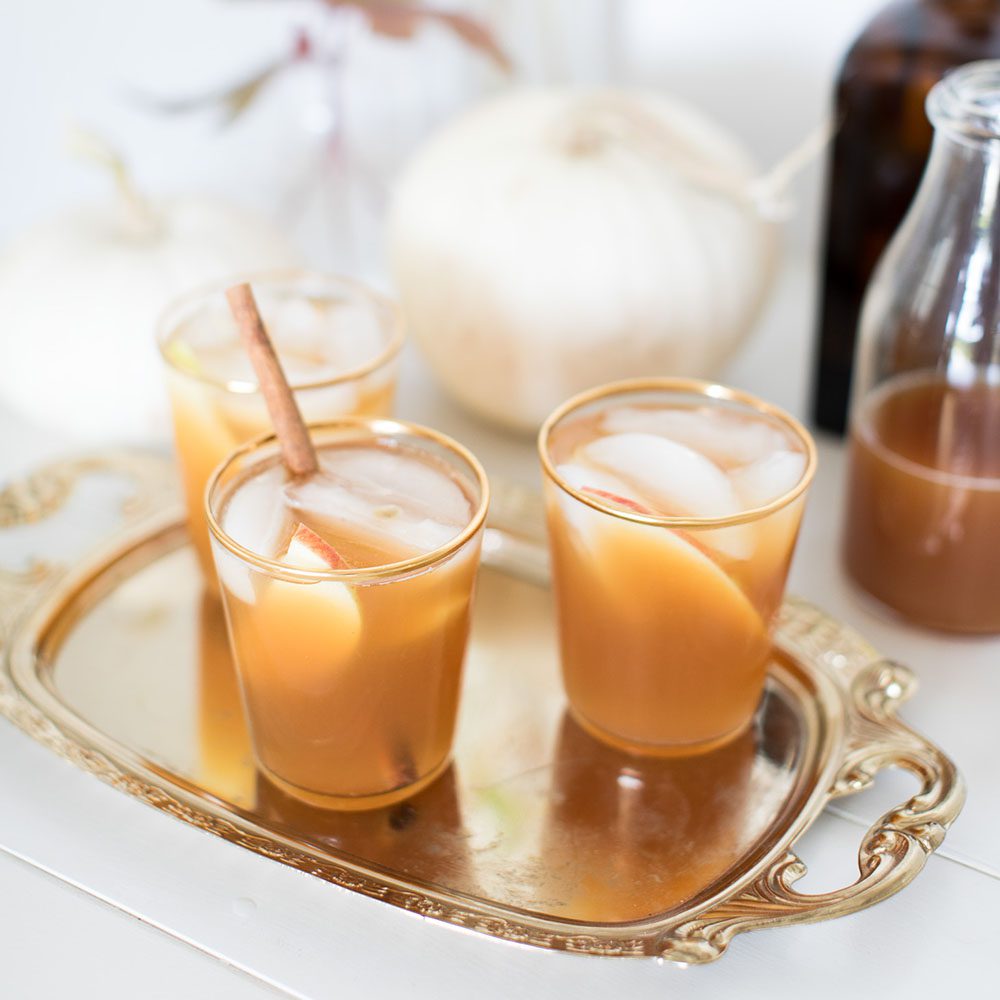 Apple Ginger Bourbon Smash by Jillian Harris – JHD
What better way to kick-off the cooler weather than with a nice stiff drink! LOL! All joking aside, this cocktail is perfect for sipping on or drinking with friends and family! Once you've indulged in this recipe once, you'll know why this is one of our fan faves! – Jillian Harris, JHD.
Caramel Apple Cookies by Jaclyn – Cooking Classy
A soft, deliciously spiced cookie that tastes just like a caramel apple? Yes please! If you like caramel apples then you will love these cookies! They are loaded with Granny Smith apples (the traditional apple of choice for the real deal) and I also tossed those apples with lemon to enhance the slight tartness (so it doesn't just fade away entirely once baked into the cookies). They have the perfect amount of cinnamon and nutmeg, just enough to highlight the cookie without overpowering and they are laced with the delicious flavor of brown sugar (both in the frosting and the cookie) to mimic the rich, toffee-like flavor of caramel. And these are finished with pecans both to add a contrasting light crunch and because they are such a great topping choice on a real caramel apple. – Jaclyn, Cooking Classy.
Old Fashioned Warm Apple Cake by Jaclyn – Cooking Classy
Apple Cake just like the Old Fashioned kind Grandma used to make! This simple moist fall cake is dotted with plenty of apples and swirled with those sweet autumn spices we all love! It's perfect for an after dinner treat but delicious enough to serve as a holiday dessert. – Jaclyn, Cooking Classy.
Apple Cinnamon Roll Muffins by Jaclyn, Cooking Classy
Apple pie meets cinnamon rolls in this Fall treat that you won't want to miss out on. I mean really, is there anything quite like a fresh out of the oven cinnamon roll drenched with glaze or a slice of perfectly sweetened and spiced homemade apple pie? With that said, they were made to go together. These are what Fall baking is all about. – Jaclyn, Cooking Classy.
Caramel Cheesecake Apple Dip by Jaclyn – Cooking Classy
The ultimate apple dip! It's rich, it's sweet, it's tangy and it's the perfect compliment to fresh apples. Sure to be a crowd favorite and you'll love how easy it is to make! – Jaclyn, Cooking Classy
Apple Cider Syrup by Jaclyn, Cooking Classy
This syrup goes perfect with these Pumpkin Waffles I shared here. This will quickly become your favorite fall syrup! It's easy and it is incredibly delicious! If you are only serving a few you can definitely half the recipe because you likely won't need two cups. – Jaclyn, Cooking Classy.
Apple Pie Smoothie – Tori – Fraiche Living
Welcome to Day 2 of the 5 Day Smoothie Challenge! Today is an Apple Pie Smoothie, packed with cozy flavours and just the right hint of cinnamon. What better way to start off your morning with the delicious taste of apple pie?! – Tori, Fraiche Living.
Apple Cider Vinegar Dressing by Jeanne – Love and Lemons
This apple cider vinegar dressing is my favorite way to brighten up a fall salad! Made with 7 basic ingredients, it's super flavorful and easy to make. – Jeanne, Love and Lemons.
Apple Cinnamon Scones by Tori – Fraiche Living
Cozy up with these homemade apple cinnamon scones! These biscuits are the hug we all need right now, on a plate. Just add a cup of tea and you're set. – Tori, Fraiche Living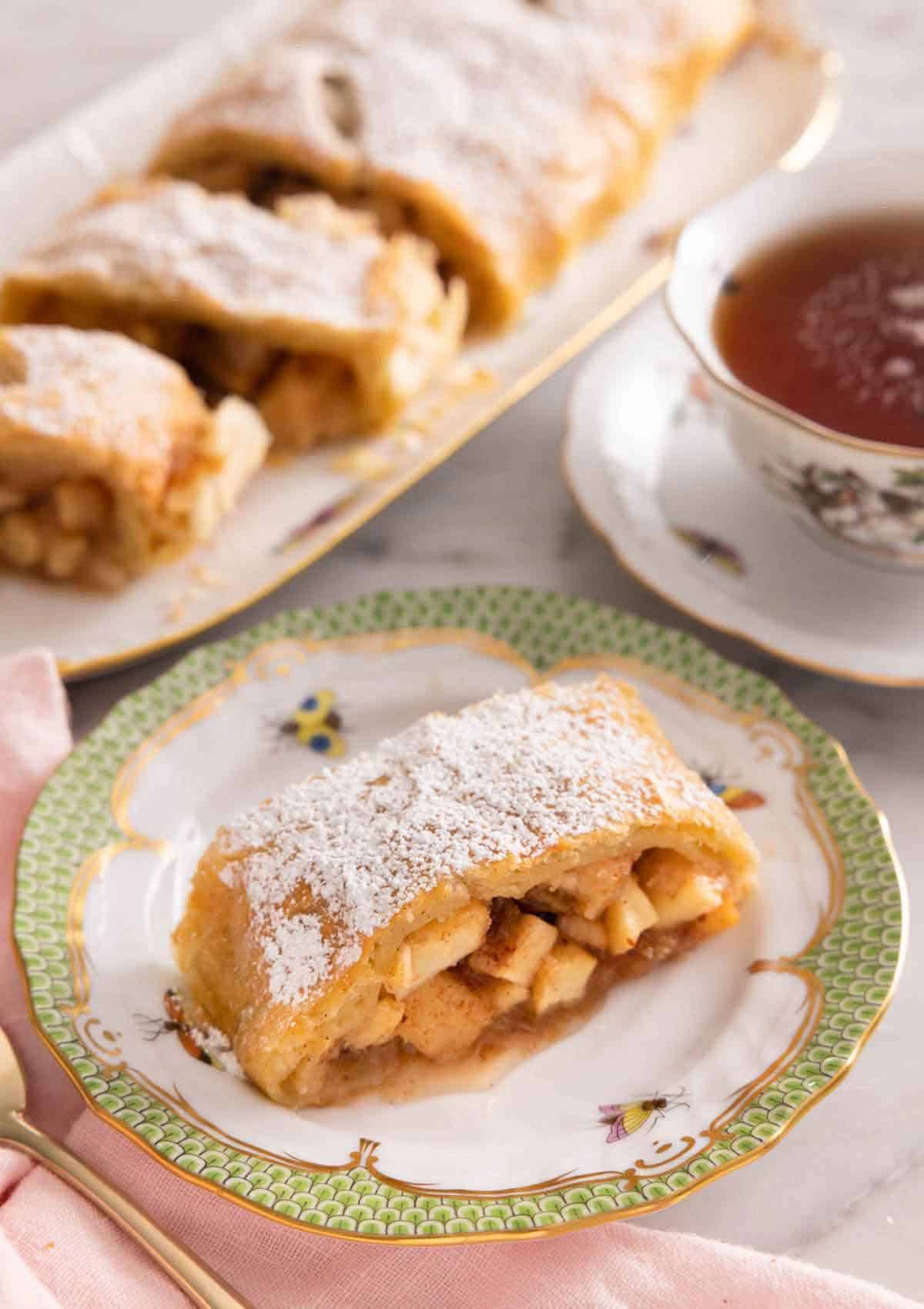 Apple Strudel by John Kannell – Preppy Kitchen
This Apple Strudel recipe is so easy to make from scratch. A delicious apple and raisin filling rolled in puff pastry, this Apfelstrudel is perfect for any occasion. All you need are a few simple ingredients to make this strudel recipe. – John, Preppy Kitchen.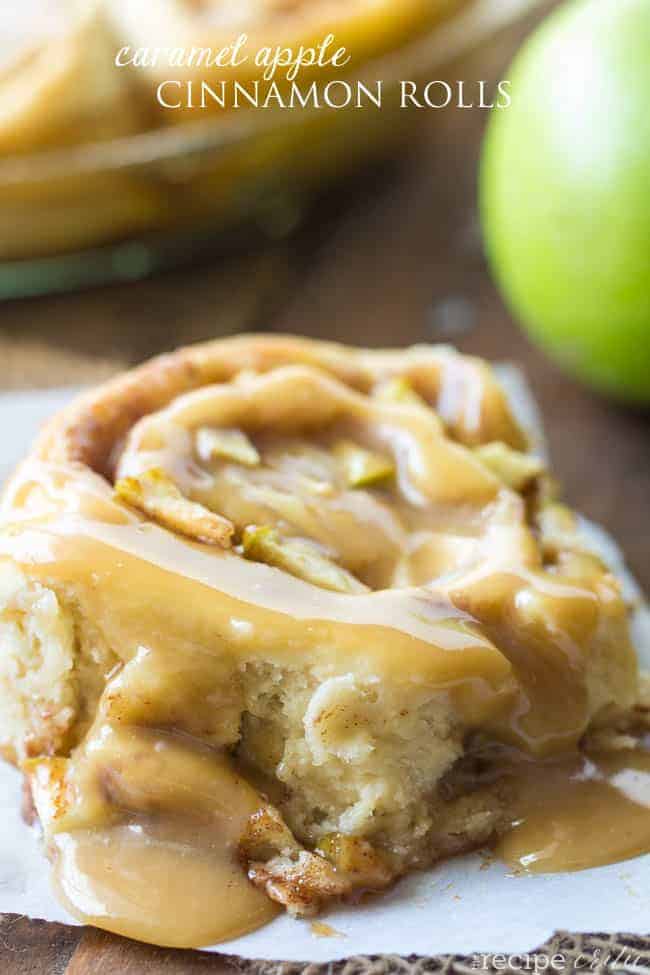 Caramel Apple Cinnamon Rolls by Alyssa Rivers – The Recipe Critic
Caramel Apple Cinnamon Rolls are a quick and easy cinnamon roll stuffed with real apples and drizzled with caramel. Ready within an hour! – Alyssa, The Recipe Critic.
Baked Cinnamon Sugar Apple Chips by Alyssa Rivers – The Recipe Critic
Baked Cinnamon Sugar Apple Chips is a healthy crunchy snack that is going to impress! Crunchy, crispy, sweet, and a bit spicy, these are going to change snack time! – Alyssa, The Recipe Critic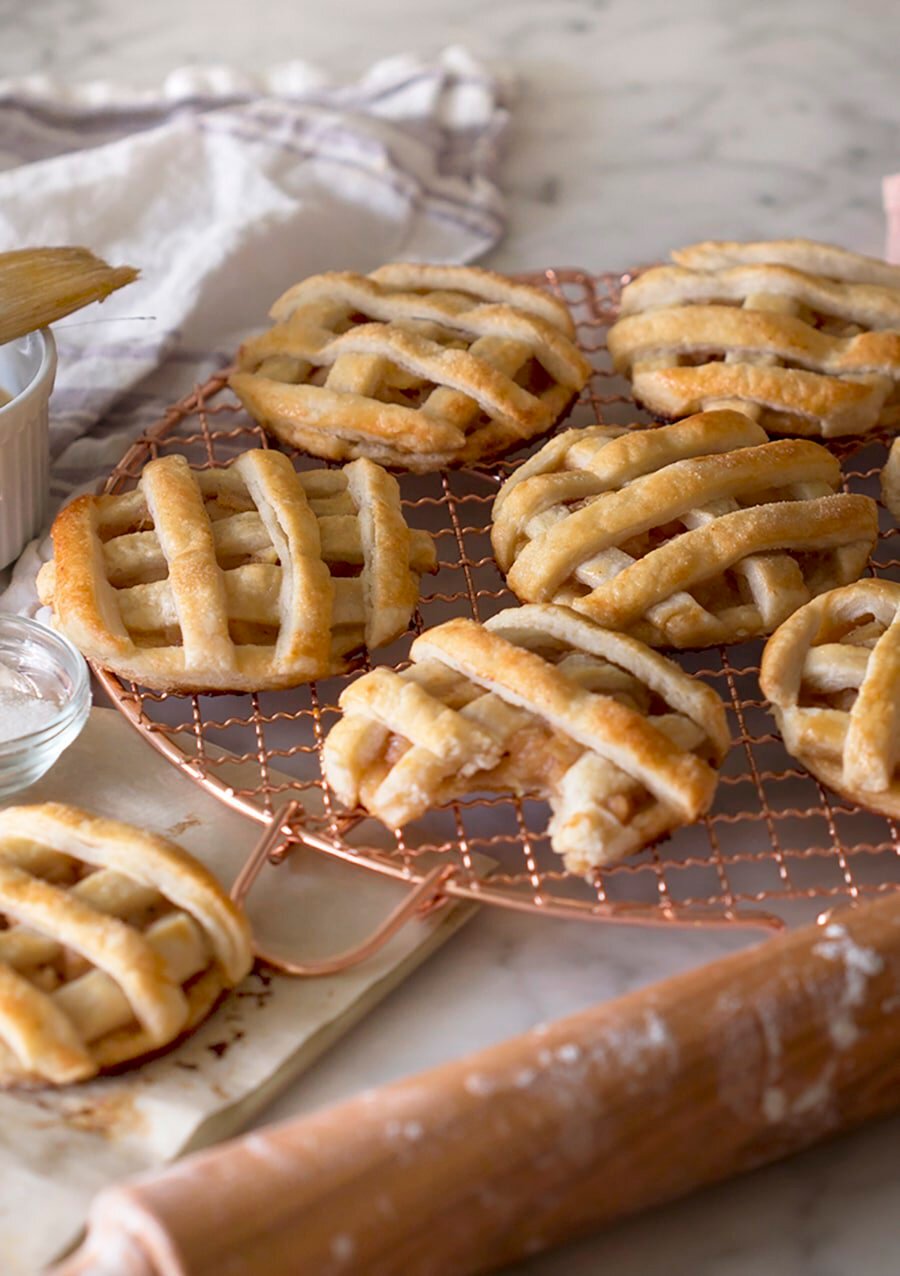 Apple Pie Cookies by John – Preppy Kitchen
These apple pie cookies are stuffed with delicious home made apple pie filling and caramel, then surrounded by flakey pie crust. These mini pies are absolutely additive, although I'm still not sure if they should be called mini pies, cookies or hand pies… – John, Preppy Kitchen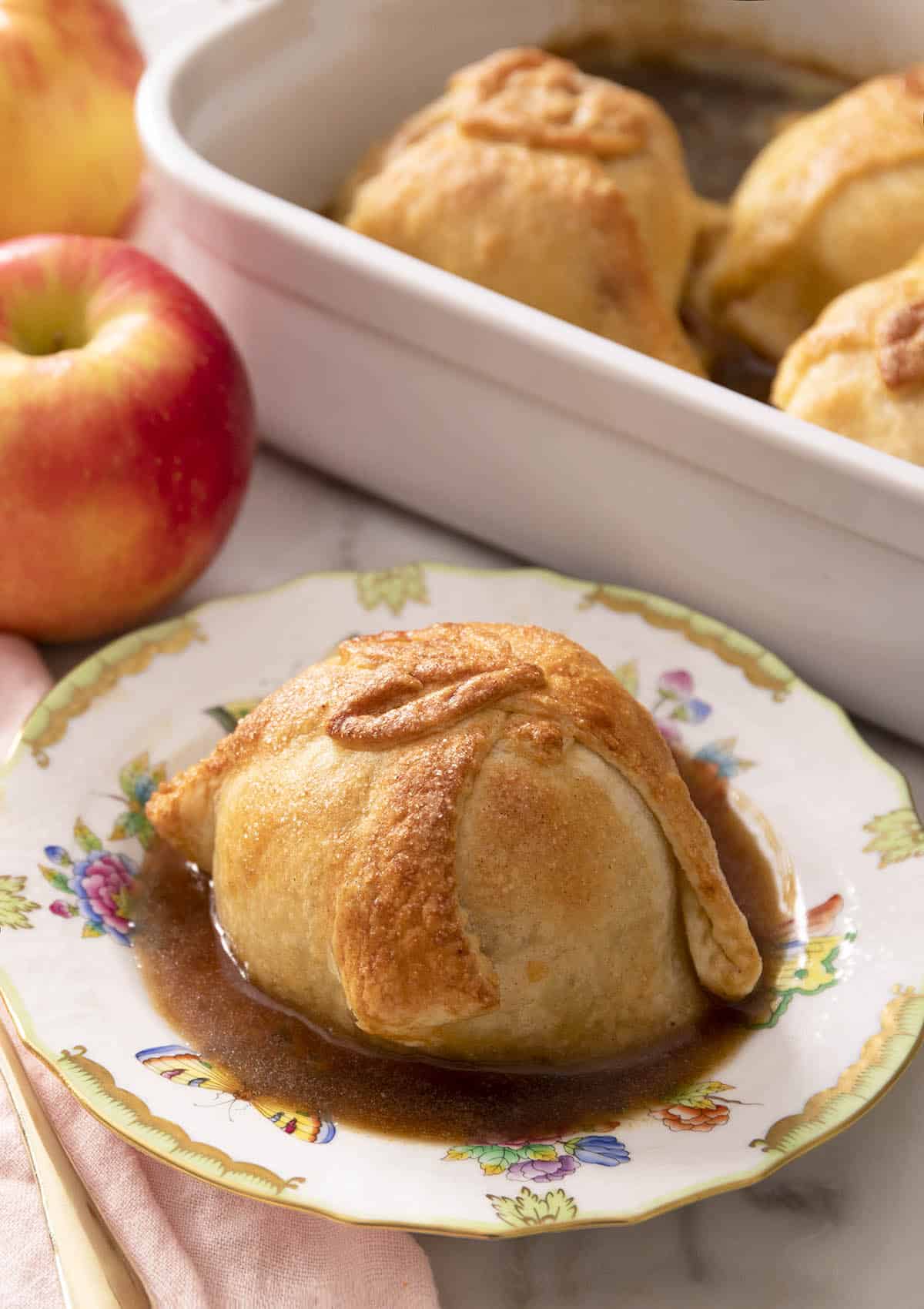 Apple Dumplings by John – Preppy Kitchen
These easy homemade apple dumplings have sweet melt in your mouth cinnamon apples wrapped with a flakey butter crust baked in a buttery brown sugar sauce. They're the perfect dessert for a fall day and all the better when served with a scoop of ice cream! – John, Preppy Kitchen.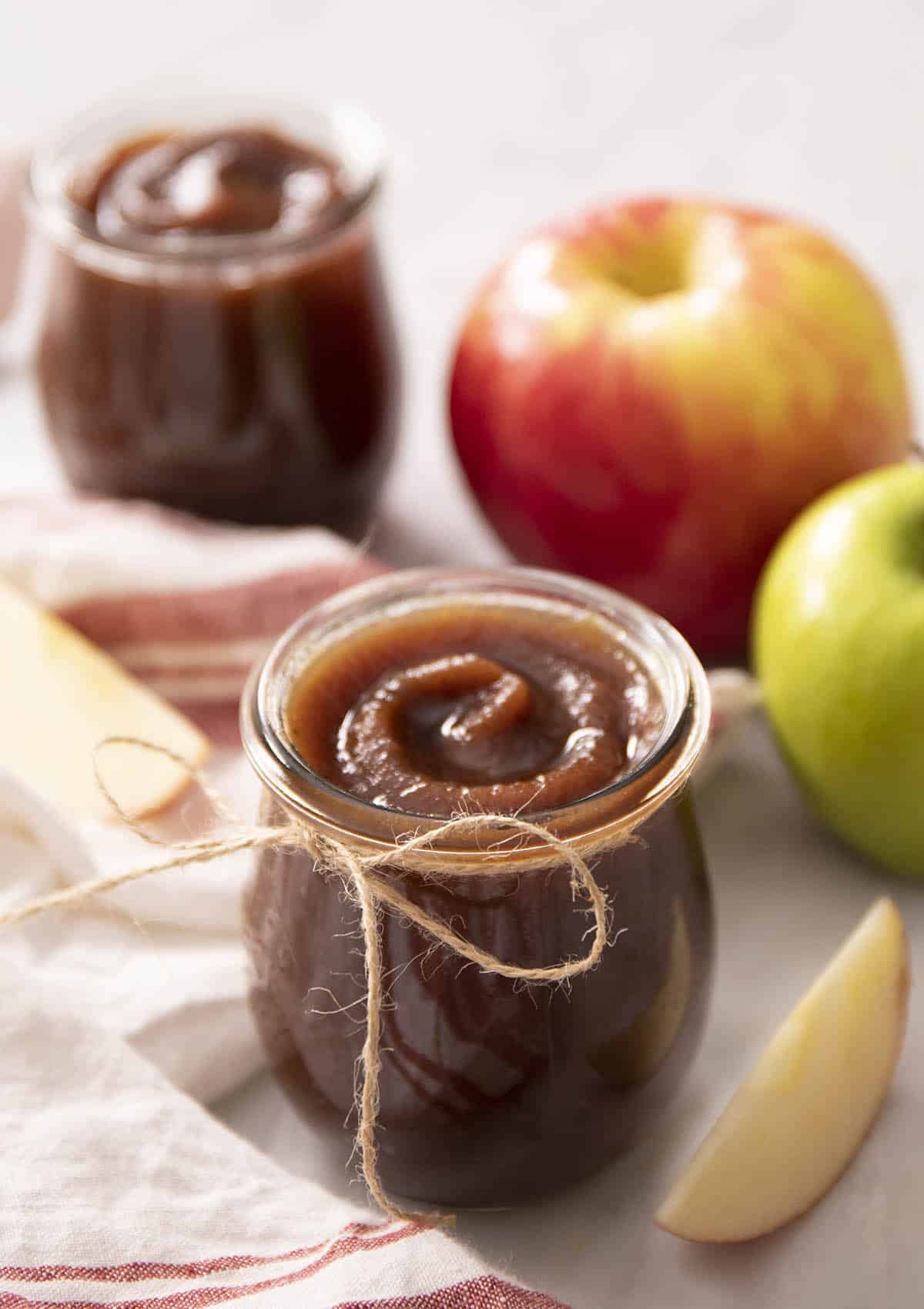 Apple Butter (Slow Cooker) by John, Preppy Kitchen
This easy slow cooker apple butter will fill your house with the smells of autumn, you can use it as a delicious spread or syrup on your favorite fall recipes, and it's a great homemade gift to give for the holidays! – John, Preppy Kitchen.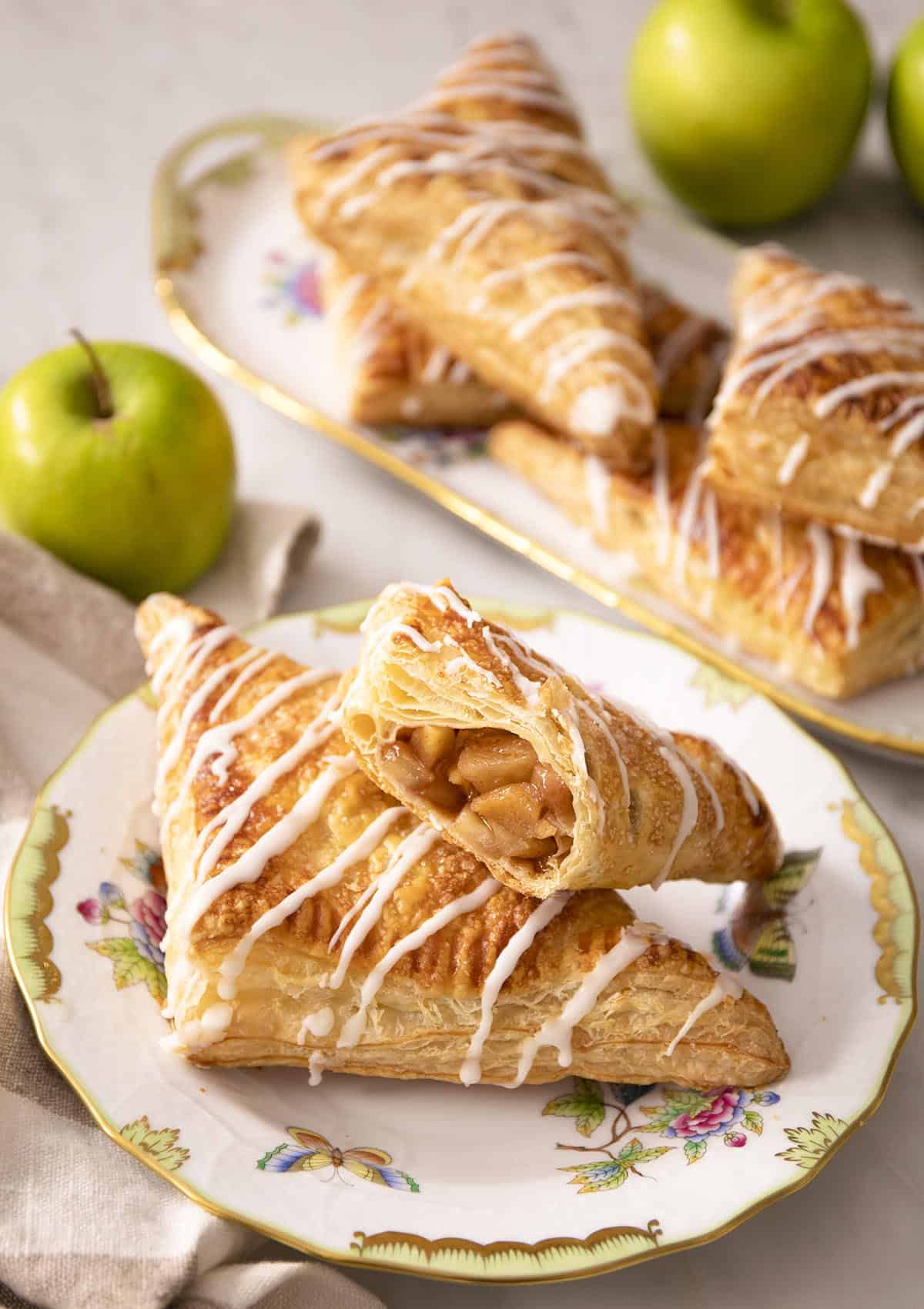 Apple Turnovers by John – Preppy Kitchen
These easy apple turnovers have a simple apple cinnamon filling wrapped in flaky puff pastry and drizzled with vanilla glaze. A perfect treat for breakfast or dessert that only takes about 30 minutes start to finish!! – John, Preppy Kitchen.
Apple Crisp Smoothie (Vegan & Gluten-free options) by Tori – Fraiche Living
This Apple Crisp Smoothie will break you out of your routine and tastes like dessert (but will leave your body saying thank you). Make your own applesauce to bring it to the next level – our kids devoured these! – Tori, Fraiche Living.

Apple Pie Soda by Giada De Laurentiis – Giadzy
All the flavors of apple pie a la mode in a refreshing frosty treat. – Giada De Laurentiis, Giadzy
Quinoa, Roasted Eggplant, and Apple Salad with Cumin Vinegarette (Vegetarian, Vegan) by Giada De Laurentiis – Giadzy
Quinoa is my go-to grain these days because it is so satisfying and has a great texture. I love it in salads, especially this vegetarian/vegan one, which features Moroccan flavors. The eggplant adds body, the apple crunch and freshness, and the cumin warmth. This salad will keep for several days. – Giada De Laurentiis, Giadzy
Ham, Gruyere, and Apple Panini by Giada De Laurentiis, Giadzy
Ham and cheese never looked so good! This ham, gruyère, and apple panini is a step up from your typical sandwich, but it couldn't be easier. Sautéeing the Granny Smith apples with thyme gives them a delicious savory-sweet flavor, and softens them just enough so they still keep some of their bite. The creamy, nutty flavor of the gruyère pairs perfectly with the smokey ham, and the apples add an unexpected tartness. – Giada De Laurentiis, Giadzy
Apple Raspberry Fall Sangria by Giada De Laurentiis, Giadzy
This white sangria is fall-ready with apples, cinnamon, and tang from orange and raspberries! – Giada De Laurentiis, Giadzy
Vegan Apple Crisp by Giada De Laurentiis, Giadzy
Apple Cider Shandy by Giada De Laurentiis, Giadzy
I love to riff off of the traditional Shandy cocktail, which is typically beer mixed with lemonade. This one feels perfect for fall – a light lager beer like Heineken mixed with sparkling apple cider makes for a super refreshing, effervescent light drink that still feels appropriate for the season. – Giada De Laurentiis, Giadzy
Caramelized Apple Pomegranate Tart by Giada De Laurentiis, Giadzy
This seasonal tart is equally delicious as a breakfast treat, afternoon snack, or not-too-sweet dessert. Giada De Laurentiis, Giadzy
Kale, Apple & Endive Salad by Rachael Ray
Apples add a sweet, crisp crunch to any salad. Bring out the fruit's sweetness with an easy honey-vinegar dressing and a mixed greens base. – Rachael Ray
Apple-Parsnip Soup by Rachael Ray
Earthy parsnips, tart apples, and warm ground cloves make for a cozy fall soup. Top with toasted pepitas for an added crunch. – Rachael Ray
Xo,
Stacey