Hi, everyone! Man,oh, man! I can't stop. I just can't. This list just keeps on getting longer and longer. LOL!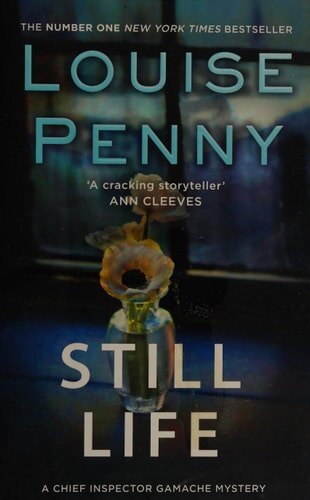 Still Life by Louise Penny: I definitely know why this book sparked a whole series, soon to be fourteen or fifteen books, it's a sophisticated detective story, that is a page-turner. It keeps you guessing right until the very end!
Chief Inspector Armand Gamache of the Surêté du Québec and his team of investigators are called in to the scene of a suspicious death in a rural village south of Montreal. Jane Neal, a local fixture in the tiny hamlet of Three Pines, just north of the U.S. border, has been found dead in the woods. The locals are certain it's a tragic hunting accident and nothing more, but Gamache smells something foul in these remote woods, and is soon certain that Jane Neal died at the hands of someone much more sinister than a careless bow-hunter. 
Still Life introduces not only an engaging series hero in Inspector Gamache, who commands his forces—and this series—with integrity and quiet courage, but also a winning and talented new writer of traditional mysteries in the person of Louise Penny.
Vox by Christina Dalcher: Vox, wow! These characters are sassy with dry humour, with an excellent story that it is such a page-turner. I find the characters to make me laugh, as the narrater, Dr. Jean McClellan tells the story of women not being able to speak more than one hundred words a day.
"[An] electrifying debut."–O, Oprah Magazine
"The real-life parallels will make you shiver."–Cosmopolitan 
One of Entertainment Weekly's and SheReads' books to read after The Handmaid's Tale
One of Good Morning America's "Best Books to Bring to the Beach This Summer"
One of PopSugar, Refinery29, Entertainment Weekly, Bustle, Real Simple, i09, and Amazon's best books to read in August 2018
Set in a United States in which half the population has been silenced, Vox is the harrowing, unforgettable story of what one woman will do to protect herself and her daughter.
On the day the government decrees that women are no longer allowed more than one hundred words per day, Dr. Jean McClellan is in denial. This can't happen here. Not in America. Not to her.
This is just the beginning…
Soon women are not permitted to hold jobs. Girls are not taught to read or write. Females no longer have a voice. Before, the average person spoke sixteen thousand words each day, but now women have only one hundred to make themselves heard.
…not the end. 
For herself, her daughter, and every woman silenced, Jean will reclaim her voice.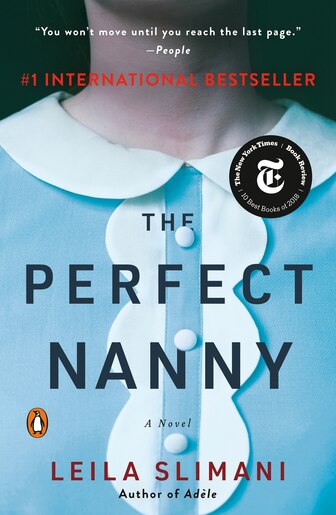 photo credit
The Perfect Nanny by Leila Silmani : Wow! A fast-paced thriller, that's addicting to read. Gotta say, that ending gave me a bit of the chills. Good book. It's definitely a page-turner, and an instant international best-seller.
*National Bestseller*
"A great novel . . . Incredibly engaging and disturbing . . . You read the entire novel knowing something terrible is coming. In that, Slimani has us in her thrall." —Roxane Gay, New York Times bestselling author of Bad Feminist and Hunger
"A book . . . that I've thought about pretty much every day . . . [It] felt less like an entertainment, or even a work of art, than like a compulsion. I found it extraordinary." —Lauren Collins, The New Yorker
"One of the most important books of the year. You can't unread it." —Barrie Hardymon, NPR's Weekend Edition

She has the keys to their apartment. She knows everything. She has embedded herself so deeply in their lives that it now seems impossible to remove her.

When Myriam decides to return to work as a lawyer after having children, she and her husband look for the perfect nanny for their son and daughter. They never dreamed they would find Louise: a quiet, polite, devoted woman who sings to the children, cleans the family's chic Paris apartment, stays late without complaint, and hosts enviable kiddie parties. But as the couple and the nanny become more dependent on one another, jealousy, resentment, and suspicions mount, shattering the idyllic tableau. Building tension with every page, The Perfect Nanny is a compulsive, riveting, bravely observed exploration of power, class, race, domesticity, motherhood, and madness—and the American debut of an immensely talented writer.
The #1 international bestseller and winner of France's most prestigious literary prize, the Goncourt, by the author of Adèle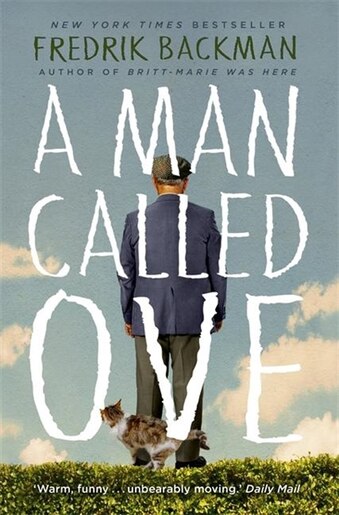 photo credit
A Man Called Ove by Fredrick Backman : This is a first Fredrik Backman book that I have read. I thoroughly enjoyed it so much, that I want to read his other best-seller, Beartown, as well as the sequel. Great author.
Read the New York Times bestseller that has taken the world by storm!
Meet Ove. He's a curmudgeon—the kind of man who points at people he dislikes as if they were burglars caught outside his bedroom window. He has staunch principles, strict routines, and a short fuse. People call him "the bitter neighbor from hell." But must Ove be bitter just because he doesn't walk around with a smile plastered to his face all the time?
Behind the cranky exterior there is a story and a sadness. So when one November morning a chatty young couple with two chatty young daughters move in next door and accidentally flatten Ove's mailbox, it is the lead-in to a comical and heartwarming tale of unkempt cats, unexpected friendship, and the ancient art of backing up a U-Haul. All of which will change one cranky old man and a local residents' association to their very foundations.
A feel-good story in the spirit of The Unlikely Pilgrimage of Harold Fry and Major Pettigrew's Last Stand, Fredrik Backman's novel about the angry old man next door is a thoughtful exploration of the profound impact one life has on countless others. "If there was an award for 'Most Charming Book of the Year,' this first novel by a Swedish blogger-turned-overnight-sensation would win hands down" (Booklist, starred review).
Housekeeping by Marilynne Robinson: So intriguing.
A modern classic, Housekeeping is the story of Ruth and her younger sister, Lucille, who grow up haphazardly, first under the care of their competent grandmother, then of two comically bumbling great-aunts, and finally of Sylvie, their eccentric and remote aunt. The family house is in the small Far West town of Fingerbone set on a glacial lake, the same lake where their grandfather died in a spectacular train wreck, and their mother drove off a cliff to her death. It is a town "chastened by an outsized landscape and extravagant weather, and chastened again by an awareness that the whole of human history had occurred elsewhere." Ruth and Lucille's struggle toward adulthood beautifully illuminates the price of loss and survival, and the dangerous and deep undertow of transience.
A Gentleman in Moscow by Amor Towles: A very well-written novel. I originally borrowed from the library, then realized that I had to purchase it. I can immediately tell that this is a book, that I'll re-read at some point in my life. And, I don't normally re-read books. I've got a good memory, so, for me to want to re-read it speaks volumes.
"The book is like a salve. I think the world feels disordered right now. The count's refinement and genteel nature are exactly what we're longing for." —Ann Patchett

"How delightful that in an era as crude as ours this finely composed novel stretches out with old-World elegance." —The Washington Post
He can't leave his hotel. You won't want to.
From the New York Times bestselling author of Rules of Civility—a transporting novel about a man who is ordered to spend the rest of his life inside a luxury hotel.

In 1922, Count Alexander Rostov is deemed an unrepentant aristocrat by a Bolshevik tribunal, and is sentenced to house arrest in the Metropol, a grand hotel across the street from the Kremlin. Rostov, an indomitable man of erudition and wit, has never worked a day in his life, and must now live in an attic room while some of the most tumultuous decades in Russian history are unfolding outside the hotel's doors. Unexpectedly, his reduced circumstances provide him entry into a much larger world of emotional discovery.
Brimming with humor, a glittering cast of characters, and one beautifully rendered scene after another, this singular novel casts a spell as it relates the count's endeavor to gain a deeper understanding of what it means to be a man of purpose.
Soon to be a major television series starring five-time Academy Award® nominee Kenneth Branagh.

Bury Your Dead by Louise Penny: Can you tell how much I've gotten I to this series? Lol. My third novel from this series that I've read. I really enjoy it very much. Well-written.
"Few writers in any genre can match Penny's ability to combine heartbreak and hope." –Publishers Weekly (starred review)
It is Winter Carnival in Quebec City, bitterly cold and surpassingly beautiful. Chief Inspector Armand Gamache has come not to join the revels but to recover from an investigation gone hauntingly wrong. But violent death is inescapable, even in the apparent sanctuary of the Literary and Historical Society–where an obsessive historian's quest for the remains of the founder of Quebec, Samuel de Champlain, ends in murder. Could a secret buried with Champlain for nearly four hundred years be so dreadful that someone would kill to protect it?
Meanwhile, Gamache is receiving disquieting letters from the village of Three Pines, where beloved Bistro owner Olivier was recently convicted of murder. "It doesn't make sense," Olivier's partner writes every day. "He didn't do it, you know."
As past and present collide in this astonishing novel, Gamache must relive a terrible event from his own past before he can begin to bury his dead.
The Billion Dollar Spy by David E. Hoffman: One of my favourite genres is history and politics. Quite fascinating on a true story that derives from the Cold War. It's so compelling.
A Washington Post Notable Book of the Year
It was the height of the Cold War, and a dangerous time to be stationed in the Soviet Union. One evening, while the chief of the CIA's Moscow station was filling his gas tank, a stranger approached and dropped a note into the car. The chief, suspicious of a KGB trap, ignored the overture. But the man had made up his mind. His attempts to establish contact with the CIA would be rebuffed four times before he thrust upon them an envelope whose contents would stun U.S. intelligence. In the years that followed, that man, Adolf Tolkachev, became one of the most valuable spies ever for the U.S. But these activities posed an enormous personal threat to Tolkachev and his American handlers. They had clandestine meetings in parks and on street corners, and used spy cameras, props, and private codes, eluding the ever-present KGB in its own backyard—until a shocking betrayal put them all at risk.
Drawing on previously classified CIA documents and on interviews with firsthand participants, The Billion Dollar Spy is a brilliant feat of reporting and a riveting true story of intrigue in the final years of the Cold War.
This non-fiction real story about espinoge and betrayal of the cold War, is riveting. Definitely a compelling read.
Happy Reading!!
Xo,
Stacey